Steven Williams stabbed and waited for Joanna Hall to die, court told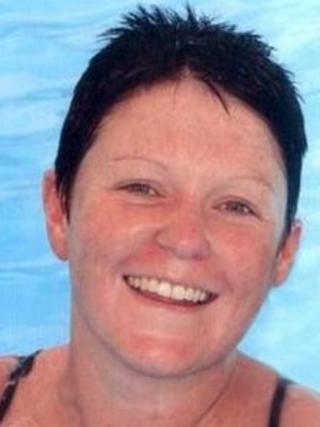 A man stabbed his girlfriend 40 times and told her "will you just die" as he waited for around five hours before calling 999, a jury was told.
Steven Williams, 30, "flipped" following a row in March at the home of Joanna Hall in Tenby, Pembrokeshire, Swansea Crown Court heard.
Mr Williams, of Tenby, who denies murder, had allegedly been drinking before taking a knife from the kitchen.
Ms Hall eventually went to hospital but died three weeks later.
The trial has heard he claimed a knifeman had broken in.
On Thursday, the jury heard how when she was in Morriston Hospital, Swansea, Ms Hall had told her sister who had stabbed her.
Georgina Marwick said her sister had told her Mr Williams had stabbed her after an argument.
"She was obviously in a lot of pain. Her arm was bandaged, but she was very lucid and coherent," she said.
"The first thing I asked was 'who did this to you?'. She said 'someone I know. I've been seeing him and his name is Steven Williams'."
Mrs Marwick told the court: "I then said to her why do you get involved with these sorts of people? She said 'he was nice to me'. She said he'd come to her flat that night. He'd been drinking. They got into an argument and she'd asked him to leave.
"He was in a temper and he ripped a radiator off the wall. He flipped.
"He got a knife and he stabbed her. Jo didn't want to tell the police because she was scared. She said that he'd threatened if she told anyone, he'd come and finish her off or get someone else to do it."
Mrs Marwick told the jury she told her sister not to worry and she should tell the police everything that happened.
"She said she had asked him [Steven Williams] to phone for help, but he refused saying 'you have a choice, take your life, or I'll take it for you'."
Mrs Marwick then told the court her sister had spoken of how Mr Williams had said that he "didn't want to have to do this, but I'm going to have to kill you now. I'm not going back to prison".
She added her sister said Mr Williams had sat with her all night, just smoking cigarettes.
"She remembers struggling to take a deep breath. He said 'will you just die?'" she said.
The next morning, he told Ms Hall he was going to the shops and said sarcastically, 'don't run off anywhere', Mrs Marwick said.
She said, according to Ms Hall, Mr Williams used a knife she and her husband had given to her as a moving in present.
'Drunk on whisky'
The court heard from Det Con Richard Davies, from Dyfed-Powys Police, who took a statement from Ms Hall from her hospital bed.
Reading it to the court, he said: "Last night Steve turned up drunk on whisky and he got a knife and he stabbed me. It was Steve Williams. They call him Steve Sparrow.
"The knife was silver. EastEnders was on TV. I begged him to call an ambulance. He stayed all night. I was in so much pain."
The court heard from two staff who were working at a local garage on the night of the attack when Mr Williams walked in.
Both Lisa Rossiter and Alison Shone told the court the defendant was a regular customer who had been refused service in the past for being drunk.
Ms Rossiter said she realised that when the defendant came in on this occasion he had "obviously" had a drink and he was "slurring his words".
Alison Shone told the court she served Mr Williams with shop brand whisky.
'Unsteady on his feet'
The next witness was PC Alex Jones who said he stopped at the garage to buy petrol before his 9pm shift in Tenby and recognised Mr Williams.
After paying for the fuel, PC Jones said he stopped and spoke to Mr Williams outside.
He said: "He was unsteady on his feet. I couldn't really understand the conversation, but I could smell alcohol coming from him. He was holding a bottle which I believe he may have purchased."
PC Jones said he did not notice any injury or bleeding on Mr Williams's face.
On Wednesday, the jury heard Mr Williams's 999 call describing how Ms Hall had been stabbed and was "dying".
Elwen Evans QC, prosecuting, has told the jury Ms Hall was repeatedly slashed and stabbed all over her body, with some of the injuries causing internal damage.
Ms Evans told the jury that Ms Hall was awake when the air ambulance arrived and was able to give an account of what happened and named her attacker.