Carmarthenshire cuts could mean five-fold rise in pitch fees cost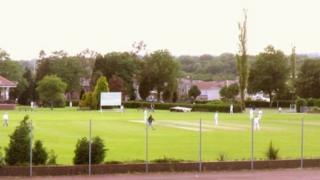 People using council sports grounds in Carmarthenshire could see costs rise by nearly five times in the next few years as the council seeks to cut outgoings.
The changes could see the charge for using some rugby pitches for an adult match rise from £49 to £235.
Organisations have called the rises "crippling" and held a protest meeting in Llanelli on Tuesday evening.
The council said they were removing subsidies, adding that over half of groups do not get any subsidy.
The council says it has been holding meetings for the past year with organisations across the county to explain the situation.
It says 70 clubs currently maintain their own facilities, while fewer than 60 have theirs maintained by the county at a subsidy of over £250,000.
The council plans to phase in an increase in pitch fees over four years and says it will help groups access grants for funding which are not available to the council.
The changes would affect football, rugby, cricket and bowling facilities.
But local clubs say the changes could have a big impact on them.
Phil Hewitt, secretary of Tumble Rugby Club, said if the changes were implemented it would be "crippling".
"It will just bankrupt the clubs affected. I know we'll have to possibly sacrifice the second team, the youth and the juniors," he told BBC News.
"As drastic as it may sound, what we currently get from the [Welsh Rugby] union, we won't be able to sustain it.
"Local sponsors help us out and [we fundraise] from functions we organise ourselves within the club. We struggle to get by now."
He said at present they paid around £4,000 per year in charges, but this would rise to £22,000 by 2017.
The club plays its matches and trains at Park Y Mynedd Mawr, a council-run facility, which is also used by the town's football club.
Richard Kennan, secretary of Llanelli Wanderers RFC, had a similar outlook.
He said: "Some clubs will say they can't afford to run their teams any more. Other clubs will look at a reduced formation of their juniors.
"The clubs will really suffer under these proposals, that's for definite.
"It's going to seriously affect membership. Clubs won't be able to afford to run these teams, so you'll lose the players, you'll lose their parents so the membership of the club will actually reduce."
'Level playing field'
Council leader Kevin Madge said: "Our aim is to provide a level and stable playing field for the continued health and growth of all sporting organisations.
"There has been an unfair imbalance on how some areas and clubs are treated and the council has had to review its charges to accurately reflect costs.
"It is a phased period and support will continue to assist clubs and groups access considerable grant support that is not available to the council."
He added the price changes being brought in for the following year brought the county broadly in line with other local authority areas.
The protest meeting took place at Stebonheath Park at 19.00 GMT.