Clipper Round the World race sailor realises dream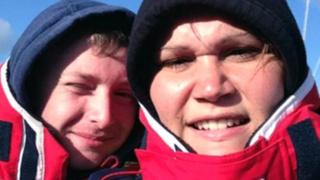 A 23-year-old woman who was told she would never have a career in the Royal Navy because of her epilepsy is preparing to take part in the Clipper Round the World race.
Maggie Gage, from Port Talbot, has been a sea cadet since she was 10, but fits put paid to her hopes of a life at sea.
Her continued volunteering has been rewarded with a berth in leg six of the 2013/14 race.
The leg runs from Qingdao in China to the US city of San Francisco.
She beat off competition from over 500 other hopeful sea cadets to take part in the 6,000 mile odyssey.
"The sea cadets only had sponsorship for twelve berths on the race across the whole of the country, so I thought there's no way I'd ever stand a chance of getting selected," Ms Gage said.
"But everyone kept telling me to give it a go, and before I knew it I was in the last 150, then the last 50, I couldn't believe it when I ended up in the last 15 who were chosen to go to Gosport for final selection."
Sleep deprivation
The final challenge not only tested Ms Gage's sailing prowess, but also her ability to follow complex instructions, work as part of a team, operate under sleep deprivation and even cook in high seas.
As part of a crew of 20, Ms Gage will be expected to lend a hand in every department, working four hours off, four hours on.
"I think the lack of sleep will be the toughest part to come to terms with," she said.
"You just have to make sure you're so practiced in what you need to do that it's second nature so that you don't have to think about it while you're exhausted.
"There's never any down time in a race like this. If you're not actually rigging, tacking or navigating then there's sails and ropes to be mended, or washing and cooking to do.
"But it's such an amazing opportunity to see parts of the world you'd never normally get the chance to, and work with people so different to yourself."
The race was founded in 1996 by Sir Robin Knox-Johnston who, in 1968, became the first man to single-handedly sail around the world.
His aim was to give the same experience of circumnavigation to as wide a group of people as possible.
To date, over 2,000 people of 41 nationalities have competed, ranging in age from 18 to 69.
The 2013/14 race began at Southend-on-Sea, Essex, on 1 September, and the crews are expected back there some time in the summer.
Ms Gage will fly out to China on 4 March and, weather permitting, just 24 hours later she will have begun her 33 day voyage across the Pacific Ocean.