Muddy lanes halt post to Owensfield and Holtsfield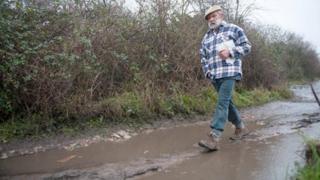 Post to two rural communities of wooden chalets in Swansea has been halted because surrounding lanes are too muddy for Royal Mail staff.
Postmen complained about the boggy conditions when delivering postbags to Owensfield and Holtsfield near Swansea.
The Royal Mail said it had suspended deliveries due to the weather.
But Ray Laurence, 63, who lives in one of the villages, said: "It does get muddy but it's no muddier now than in other winters."
He added: "It is crazy that a bit of rain can stop the Royal Mail.
"Delivery drivers from other companies had no trouble dropping off parcels before Christmas and our regular postman knows the route well but this was a complaint from a relief postman."
Householders in the communities, of around 30 wooden chalets in the middle of fields with unmade roads, have been told to collect their letters and parcels from the nearest Royal Mail depot.
Another resident, Dai Morris, 64, said: "I walk along the lanes every day and it is absolutely fine with a pair of wellies.
"Some people would rather see all the fields covered in concrete and tarmac rather than get a bit a bit muddy.
"There's nothing more natural in the British winter."
A Royal Mail spokeswoman said: "We suspended deliveries after a postman reported that the path was extremely muddy and slippery as a result of the inclement weather.
"Deliveries were suspended following a visit by a senior health and safety manager after a postman reported problems walking along a muddy woodland path."