Paul Ridd: Neglect death case prompts care plan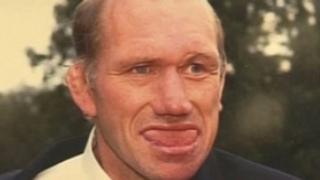 Lessons have been learnt from the "dire" care of a man with severe learning difficulties who died in hospital, says the health minister.
Paul Ridd, 53, from Baglan, near Port Talbot, died at Swansea's Morriston Hospital in 2009.
Neglect in Mr Ridd's care after surgery contributed to his death by natural causes, an inquest heard.
Minister Mark Drakeford, who has met Mr Ridd's family, said: "I wanted to assure them lessons have been learned."
He was speaking at the launch of a care plan aimed at ensuring people with learning difficulties are looked after properly when they are in hospital.
'Mistakes happen'
The guidelines are based on official recommendations made by the Public Services Ombudsman for Wales who found that Mr Ridd's care had been "abject" and "dire".
Launching the care pathway in the Senedd on Monday, Mr Drakeford said: "In Wales, we are proud of our NHS and the service it provides.
"However, we are aware that mistakes happen, and when they do, we must learn from them.
He said he met Mr Ridd's family last summer.
"I wanted to assure them lessons have been learned from Paul's death and we were in the process of developing a set of guidance to make sure that the health needs of people with learning disabilities are met."
'Significant changes'
Mr Ridd's family said they were "very proud" the guidelines will be used throughout Wales.
In a statement, they said: "When Paul died five years ago there was no training or awareness within the NHS.
"The work we have been doing with Abertawe Bro Morganwwg Health Board has brought about significant changes."
Chief Nursing Officer for Wales, Prof Jean White, said NHS officials and professionald had worked closely with Mr Ridd's family to ensure the guidance will make a difference.
She said: "The guidance has now been completed and will be rolled out across Wales as part of the 1000 Lives Plus service improvement programme.
"We are determined to ensure that our most vulnerable people are not only protected but are given the highest possible standards of care in all healthcare settings."