Deal secures elite swimming future in Swansea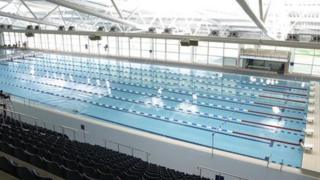 A deal to secure the future of elite-level swimming at the Wales National Pool in Swansea has been struck.
Elite swimming in Swansea had only been guaranteed until this summer's Glasgow Commonwealth Games.
Budget cuts following a poor London 2012 by Britain's swimmers meant that British Swimming removed Swansea's status and funding as an Olympic and Paralympic training centre.
But now elite swimming will continue and it is hoped top athletes will stay.
The deal will see top coaches Bud McAllister and Billy Pye remain at Swansea at it becomes the first Welsh-run centre for the sport.
Olympians Georgia Davies and Jemma Lowe have already chosen to move training bases to Loughborough and Bath respectively while Paralympian Ellie Simmonds has also moved there.
But the aim now is to keep star swimmers such as Jazz Carlin at the facility beyond the Commonwealth Games.
For the first time British Swimming will make a direct investment into Swim Wales - the governing body in Wales - rather than investing into the Swansea facility itself, although that amount will be less than it previously put in.
While the exact figures are still to be revealed, it is understood Welsh sport's umbrella body - Sport Wales - will also be making a substantial investment and providing sports science and medical support.
Future funding
Swim Wales will end up with control over elite training and will also be able to work on the development of the next generation of Welsh swimmers.
There are caveats.
The level of future funding from Sport Wales will depend on how successful Welsh swimmers are at the Commonwealth Games. It is understood they have a target of seven medals.
British Swimming's future investment hinges on how many Welsh athletes end up on their official Olympic medal-targeting programmes.
There could also be a challenge for the Swansea facility itself.
If Swim Wales needs less pool time than when Swansea was an official Olympic and Paralympic training centre, the pool might need to find new customers to make up any shortfall.
An official announcement is expected on Tuesday.