20 listed sites 'at extreme risk' in Swansea, report says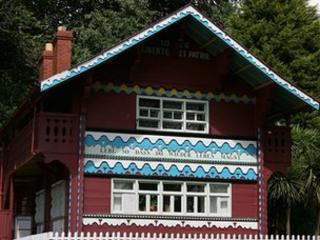 Twenty listed buildings in Swansea are at "extreme risk" according to a report which warns the city council has no money to repair the ones it owns.
The authority owns 15 of the buildings while the other five, including the Palace Theatre, are privately owned.
The authority faces £45m budget cuts over the next four years and wants to secure grants and any spare conservation cash to fund repairs.
Cabinet members will discuss the report next week and draw up a plan.
The council-owned buildings deemed at "extreme risk" include:
10 premises at the Morfa/Hafod Copperworks
Veranda House and Swiss Cottage at Singleton Park
Morfa Bridge near the Liberty Stadium
Clyne Gardens glass houses
The former Annealing building at the Beaufort tinplate works in Llansamlet
The privately-owned buildings deemed at "extreme risk" are:
The Palace Theatre
Danbert House (also known as Dunbar House) in Morriston
Capel Salem (Capel y Cwm) in Bonymaen
Allt-y-fanog in Rhyndwyclydach
Caer Eithin engine house at the Berthlwyd Colliery
Other significant buildings deemed at risk in the report by council officers include the observatory at Penllergaer, Mumbles Pier and Hendrefoilan House, but these are not in as serious a condition as the others.
Nick Bradley, Swansea council's cabinet member for regeneration, said: "Listed buildings connect us to our past and provide character and a sense of place.
"The combination of the difficult financial climate and the fact many of these buildings are in private ownership makes it a very challenging issue to resolve, but we're doing what we can.
"Several buildings in our ownership are soon to be preserved and we're in discussions with a number of private owners."
The council's cabinet is being asked to approve the action plan on Tuesday.