Non-urgent cases told to avoid Swansea and Bridgend A&E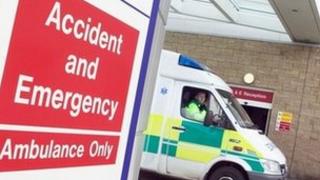 People with minor injuries in Swansea and Bridgend are being advised to stay away from their local A&E departments.
Abertawe Bro Morgannwg University Health Board said a post-festive surge in very ill people over the age of 75 meant beds were needed.
Swansea's two hospitals have seen 18 operations cancelled while a rise in norovirus cases has shut wards at Neath Port Talbot hospital and Bridgend.
Those with minor injuries are asked to only go to Neath Port Talbot Hospital.
The health board apologised for cancelling operations.
In a statement, it added: "This is not done lightly as we realise the inconvenience and upset this causes. We will do our very best to reschedule their operations as soon as possible.
"In order to manage this surge in emergency demand, patients who are not emergency cases or who do not have serious injuries should avoid Morriston and the Princess of Wales emergency departments."
The health board said instead, they should follow Choose Well advice and see their pharmacist or GP, or attend the minor injury unit in Neath Port Talbot Hospital.