European Commission investigates Liberty Stadium funding deal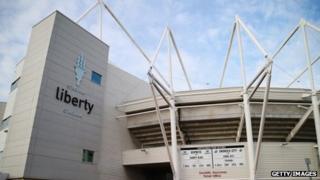 A deal allowing Swansea City FC and the Ospreys rugby region to play at the Liberty Stadium is being investigated by the European Commission.
Swansea council has been asked to give details over funding arrangements at the council-owned stadium.
The commission is carrying out a Europe-wide investigation into state aid in sport.
State aid rules, policed by the commission, limit how much public money can be given to private companies.
The £27m Liberty Stadium was built in 2005 with the Swans and the Ospreys both playing there.
The clubs pay a peppercorn rent to the Swansea Stadium Management Company (SSMC) - a body running the stadium which is a partnership between the council and the two clubs.
The clubs also contribute over £1m a year to the running costs of the stadium with any profit made being returned to the teams and the local authority.
However, it is understood so far that SSMC has failed to ever return a profit which means the council is yet to see a return on its investment.
State aid
Following a freedom of information request to the council, it confirmed questions had been raised about the agreement and whether it complied with state aid regulations.
The council added there had been no assurances given by the European Commission about whether the deal complied with regulations governing state aid.
A Swansea council spokesperson said: "The European Commission has asked us a number of questions in relation to the Liberty Stadium and currently we are in dialogue with them, as are a large number of sports clubs from across Europe."
If it is proved that the use of the Liberty Stadium breaks European law, then both clubs could face having to pay back money, plus interest.
A spokesperson for Premier League Swansea City said: "The club is aware that the European Commission is currently in discussions with Swansea City Council in relation to the Liberty Stadium.
"We have asked to be kept informed of any future development."
The Ospreys have been contacted for a response.
The European Commission investigation is looking into alleged illegal state aid involving several clubs including Spanish giants Barcelona and Real Madrid.
Legal advice
Meanwhile, Carmarthenshire council said it had not been contacted by the commission over Parc y Scarlets, where Scarlets rugby region have played since 2008.
Earlier this month, the authority denied claims by a funding expert that it had broken regulations in the way it gave more than £20m to Scarlets.
The council said it remained confident about independent legal advice taken in 2007 that state aid rules did not apply in this case.
Parc y Scarlets and related facilities cost £25.4m to build, and £18.3m was provided in differing forms by Carmarthenshire council.
The land is owned by the authority but the stadium and surrounding land has been leased to the club for 150 years.
The European Commission said it had not been notified of these payments.