Private family funeral for Lord Roberts of Conwy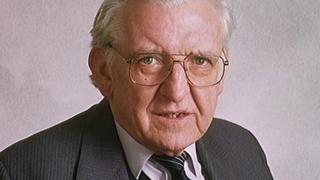 A private family funeral has been held at Colwyn Bay for former Welsh Office minister Lord Roberts of Conwy.
Wyn Roberts served as Conservative MP for Conwy for 27 years before joining the House of Lords in 1997.
He died aged 83 this month, leaving his wife Enid and two sons.
In a tribute shortly after his death, Prime Minister David Cameron called him "a devoted public servant, and a tireless ambassador for Wales".
In 18 years at the Welsh Office, he became the longest-serving minister in the same department.
The non conformist minister's son from Anglesey turned to politics after a career in newspaper and broadcast journalism.
After Margaret Thatcher won the 1979 election, he was made Welsh Office minister and his responsibilities included the Welsh language.
He served under four Secretaries of State and two prime ministers, but never made it into the cabinet.
He became Baron Roberts of Conwy when he retired as an MP in 1997 and was as an opposition spokesman on Welsh affairs in the Lords until 2007.