Aberpergwm mine, Glynneath: Work resumes on 'limited basis'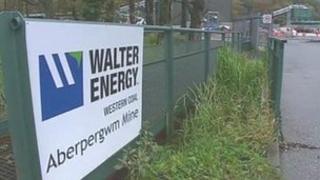 Work has resumed at a drift mine in the Neath Valley, which closed a year ago, BBC Wales has learnt.
Walter Energy has confirmed it has resumed "limited" operations at Aberpergwm near Glynneath.
The mine closed days before Christmas last year, with the loss of 300 jobs. The firm says 64 are now employed.
Meanwhile, the administrators of the nearby Unity Mine, which closed in October with more than 180 job losses, said they were making "good progress".
The administrators are looking at several proposals for new investors and said they hoped to be able to make a firmer announcement in mid January.
Walter Energy believes the Aberpergwm Colliery could have approximately 15m tonnes of recoverable reserves while the National Union of Mineworkers believes Unity has enough coal reserves of anthracite to provide work for between 10 and 20 years.
Wholesale
Further investment at both sites is dependent on a rise in the wholesale price of coal.
Unity Mine opened in 2007 with reserves of up to 90m tonnes of coal.
It also is a drift mine, which means that miners can walk into it from the surface rather than having to be transported down to the coal seams via a lift in a shaft.
In a statement, Walter Energy said: "The Aperpergwm underground mine has restarted, on a limited basis, to evaluate the application of modern and proven mining methods and equipment that, until recently, had never been utilised in Wales.
"Adopting modern mining methods and equipment already employed around the world has the potential of allowing the underground mines in the south Wales coal fields to become more productive and thus more competitive in the market."