Beach pollution scare at Freshwater, Pembrokeshire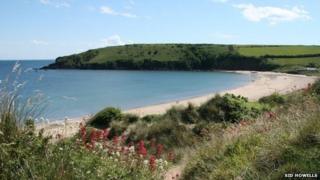 A beach in Pembrokeshire has been shut as a precautionary measure after a "minor pollution" incident.
Emergency services were called to Freshwater East Beach after an unidentified substance was discovered on Saturday afternoon.
Pembrokeshire council is co-ordinating the investigation with help from Dyfed-Powys Police.
"Members of the public are advised not to walk on the beach until further notice," they said a joint statement.
"As a precautionary measure, the beach has been closed to the public whilst the matter is investigated.
"Samples of the substance have now been taken for analysis and identification purposes."
The substance is thought to have been brought in on a tide.