Sands Cymru action call after 37 Swansea drug deaths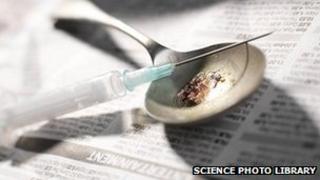 More needs to be done to prevent avoidable drug overdoses after 37 people died in Swansea in the last two years, a charity has said.
Sands Cymru said a further 25 lives had been saved thanks to heroin antidote naloxone which is given to users as part of a Welsh government scheme.
But the drug and alcohol charity wants to change users' risky behaviour and inform professionals how they can help.
The call comes as Welsh Overdose Awareness Day takes place on Friday.
'Avoidable'
The number of drug deaths in Wales over the past couple of decades has risen sharply.
Ifor Glyn, chief executive of Swansea-based Sands Cymru, said: "Most overdose deaths are avoidable and agencies like us and others across Wales need to redouble our efforts in addressing this issue.
"The priority with every drug user needs to be education about the risks of overdose and developing strategies to prevent drug-related overdose and deaths.
"Every drug user in Wales should be told about the risks and what they can be doing themselves to avoid deaths."
In July 2009 the Welsh Take Home Naloxone pilot project was launched by the Welsh government in selected areas of Wales.
The key aim was to reduce drug-related deaths in Wales, promote harm reduction and improve the health and social wellbeing of drug users.
It was rolled out across Wales two years later and is now available at 34 sites.
"There is no doubt that naloxone has been responsible for saving lives across Wales," Mr Glyn said.
"It is one of the simplest ways of reducing drug-related deaths and I would urge drug users, families and friends to get their naloxone kits."
He added: "We and others must commit ourselves to prioritising preventing drug-related deaths and overdoses in Swansea and elsewhere.
"Christmas is a time when families and friends look forward to getting together - there are too many examples of where drug related deaths have destroyed this for families."
The awareness day involves sessions for drug users and professionals.
A ceremony for those who have lost family of friends will also take place at Sands Cymru, while 37 balloons are to be released.