Dylan Allman, seven, wins Big Issue cover contest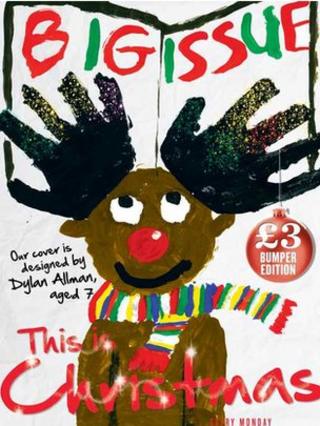 A seven-year-old boy from Pembrokeshire has won a competition to design the cover of the Christmas edition of the Big Issue magazine.
Dylan Allman from Llangwm, near Haverfordwest, beat hundreds of entries from around the UK to provide the first ever reader's cover for the magazine, which is sold by homeless people.
His reindeer design was up against entries from children aged up to 16.
Big Issue editor Paul McNamee said the picture "knocked our socks off".
Dylan got the idea for his design after wondering "how a reindeer could hold a copy of the Big Issue because he wouldn't have any hands.
"So I thought my hands could be antlers so he could hold it."
He also wanted to make his local vendor smile.
Dylan's mother Lorraine Allman said: "I was so proud when I learnt that Dylan's picture had been chosen. It's a real boost to his confidence that he's won."
The competition was organised in conjunction with children's newspaper First News.
Mr McNamee said: "We had hundreds of entries and it took a lot of difficult deliberation to settle on just one.
"We were struck by the volume and quality of what arrived through it the door.
"It was tough, but in the end Dylan's reindeer just knocked our socks off."
A gallery of some of the other entries in contention will be printed in the Big Issue and First News, and on the Big Issue's website.