Patients told avoid Morriston A&E unless 'genuine emergency'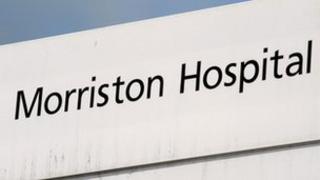 Patients have been urged to avoid going to Morriston Hospital's A&E department in Swansea unless they have a genuine emergency while staff deal with a backlog from the past few days.
The hospital says it is extremely busy with a significant number of very ill patients.
They are taking longer to recover and are staying longer in hospital beds.
This has affected A&E services and planned operations. Patients are being asked to use alternative services.
Working 'flat out'
Staff are making the sickest patients their priority, so those arriving with less serious conditions are likely to face a longer wait, Abertawe Bro Morgannwg University Health Board says.
Instead, they are asking patients to contact their GP or pharmacist, or go to the Minor Injury Units (MIU) at Neath Port Talbot and Singleton hospitals.
Routine and some urgent operations have been temporarily suspended.
A spokesman for the health board said staff were working "flat out" dealing with the high pressure at Morriston Hospital.
"We fully understand that it is upsetting and frustrating for patients and their families if an operation does not go ahead as planned, and we only postpone planned treatment if it is completely unavoidable," a spokesman added.
Flow of patients
The development came as a senior medic was telling AMs about the pressure on the service he had experienced after spend a shift helping to treat patients waiting in ambulances in the hospital's car park.
Dr Mark Poulden, Welsh chair of the College of Emergency Medicine, gave evidence to the public accounts committee about on his work on Monday.
He told AMs that sometimes paramedics "take patients to X-Ray" because there is nowhere to put them.
Dr Poulden also said that on Monday "all non-cancer operations were cancelled in Swansea" but "this is what our managers are dealing with".
The health board said many of its emergency admissions over the past few days were frail, older, people, who have more than one health condition needing treatment.
Patients are being asked to use the appropriate service for their illness or injury and to only call an ambulance when it is needed.
They are being directed to contact NHS Direct, their GP or pharmacist for advice or go to minor injury units at Singleton and Neath Port Talbot hospitals for treating conditions like minor wounds, burns and sprains.