Santiago bells: Swansea service to mark Chile cathedral fire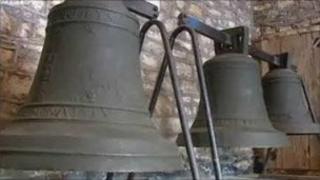 A special service is taking place in Swansea to mark the 150th anniversary of a fire at a cathedral in Chile which killed 2,500 people.
The link with the Cathedral de la Campania in Santiago is that three of its huge bells had been bought as scrap and shipped to Swansea.
They were taken to the 12th Century All Saints Church in Mumbles, while a fourth bell was found in Neath.
All four bells have been returned to Chile in recent years.
It is understood Victorian businessman Graham Vivian was behind the plan to ship the bells to Swansea following the fire on 8 December, 1863, through his business links with South America in the copper ore trade.
The bells were given a new home at All Saints Church - where the Vivian family had a pew - where they stayed until their return to Santiago.
The service at the church on Sunday will coincide with one taking place in Chile to mark the anniversary.
During the service, the Swansea Philharmonic Choir will sing songs written by composer Vernon Hopkins, which have also been recorded on CD.
One of the songs is entitled The Bells of Santiago.
A book written by Canon Keith Evans of All Saints Church detailing the history of the Bells of Santiago and their journey to Swansea and back has also been published.