Ex-Awema chief Nasir Malik denies three fraud charges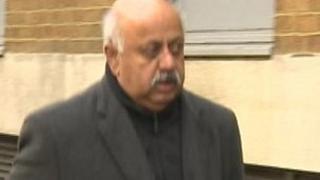 The former chief executive of the now defunct All Wales Ethnic Minority Association (Awema) Nasir Malik has denied three charges of fraud.
Mr Malik, from Brymill, Swansea, appeared before city magistrates.
It is alleged he claimed more than £16,316 from the Swansea-based charity, which was wound up in February 2012 after funding was withdrawn.
He was granted unconditional bail to appear at Swansea Crown Court next Friday.
The first charge is that on 26 March 2010 Mr Malik dishonestly paid himself a cheque of £2,500 to a personal credit card account.
He is also charged with paying a cheque worth £9,417.67 into his personal bank account on 14 August 2010.
The third charge is that between February and March 2008, Mr Malik dishonestly claimed he was authorised by Awema to implement a life assurance policy to the benefit of Bronwen Malik.
The All Wales Ethnic Minority Association (Awema) distributed public money to projects across Wales in order to promote equality and diversity.