Pembrokeshire Early Potato gets protected European status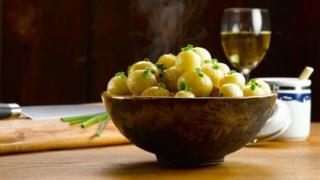 A humble spud from west Wales has joined the elite ranks of champagne, Parma ham and Welsh lamb.
The famous Pembrokeshire Early Potato has been awarded Protected Geographical Indication (PGI) status by the European Commission.
Only potatoes originating in the county are allowed to be called a Pembrokeshire Early potato.
It was granted on behalf of Haverfordwest-based company Puffin Produce Ltd.
Pembrokeshire Earlies have been grown in the county since the mid-1700s and is considered a treasured products.
"The Pembrokeshire Early potato is one of the best products in Wales," said Puffin's managing director Huw Thomas.
"Achieving PGI status has been a long and rigorous process, but we're absolutely delighted with the outcome and we can't wait until next year's Pembrokeshire Earlies to celebrate in style."