Artist John Beck, 99, holds first exhibition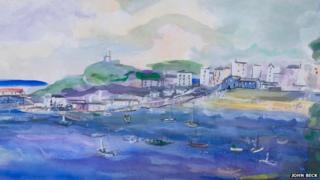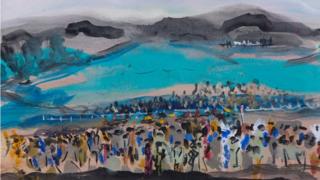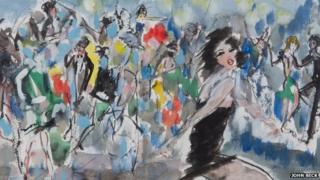 A 99-year-old artist is holding his first public exhibition after a lifetime of drawing and painting.
The family of John Beck from Cosheston, Pembrokeshire, persuaded him to show a selection of the hundreds of works he has completed to celebrate his centenary year.
The exhibition at Tenby Museum and Art Gallery shows his impressionist style.
"I'm a bit nervous," he said. "It never occurred to me that people might be interested. What if they're not."
He added: "I've painted for as long as I can remember but never thought about showing my work to anyone."
Mr Beck still paints most days although his eyesight is no longer what it was.
He lives with his daughter and son-in-law - Prue and Steve Barlow - who run Upton Castle Gardens.
"He probably would not admit it but his style has changed over the years," said Mrs Barlow.
"As his eyesight has deteriorated his work has become darker and more abstract."
The exhibition will feature some of the artist's more recent work, but also historic pieces and sketches that date back decades. They include a number privately owned and not for sale.
Meg Anthony, manager at Oriel Myrddin Gallery in Carmarthen, helped to select works for the show.
Born near Cheltenham racecourse in 1914, Mr Beck was introduced to horses at a young age and some of his works include the atmosphere of race day.
Before World War Two he owned a hut on the edge of the River Avon in nearby Tewkesbury where the late Welsh painter Augustus John visited.
He painted a mural on the side of the hut of a boat going past with someone punting.
"I was rather fond of it," said Mr Beck. "But sadly, when I went back after the war, the hut had been demolished."