Snow wardens to keep Swansea communities moving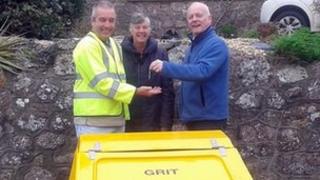 Snow wardens will be on patrol over the winter to keep communities on the move during bad weather.
The volunteers in Swansea are able to help residents in difficulty and access grit to clear paths and side roads.
Swansea council has written to community councils and voluntary groups looking for people to become wardens.
Llangennith already has a volunteer signed up while interest has also been shown in Bishopston, Penrice, Gorseinon and Llanrhidian.
"The council's focus needs to be on ensuring main roads are clear and public services are maintained," said Swansea council cabinet member June Burtonshaw.
"Community snow wardens will be able to help residents to clear side roads and footways if there is snow in their local area."
Almost 6,000 tonnes of salt has been stockpiled in Swansea in preparation for the winter.
On average Swansea council uses about 4,000 tonnes of salt during each winter period, but last year it used just over half of that amount.