Swansea University: Coral research may bring bone graft improvements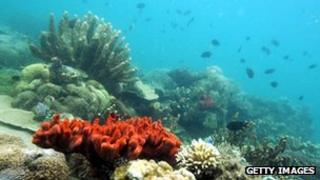 Greater use of sea coral to help heal fractures could follow after researchers claim to have made it more compatible with natural bone.
A study by Swansea University showed that grafts in 16 patients were considerably improved by partially converting properties found in coral.
Coralline hydroxyapatite (CHA) from coral has been used for many years as a successful bone graft material.
It has been limited to specific bones because it does not fully biodegrade.
Researchers partially converted calcium carbonate found in sea coral into CHA.
From that they refined material, called coralline hydroxyapatite/calcium carbonate (CHACC), which was shown to improve bone grafts in the 16 patients after four months.
Meanwhile, the CHACC had fully biodegraded after two years.
Orthopaedic surgeons use a technique called bone grafting to repair fractured or defective bones.
Bone cells
The procedure usually involves removing bone from one part of the patient's body and transferring it to another.
Doctors can treat fractures using grafts of sea coral implanted with bone cells.
Sea coral naturally contains calcium carbonate and possesses a porous architecture not unlike natural bone.
One of the researchers from Swansea University, Dr Zhidao Xia said: "Our methods have considerably improved the outcome of bone grafts by using the partial conversion technique".
He said the better biodegrading properties of CHACC made it more compatible with natural bone.
"When biomaterials do not biodegrade and remain in skeletal tissue, they may continuously cause problems in the host," he added.
"In extreme conditions, it is possible that the different mechanical properties of the artificial bone graft may cause a re-fracture or become a source for bacterium growth in infection."
Researchers from the UK and China harvested sea coral from south China and partially converted the calcium carbonate into CHA to form CHACC.
The CHACC was mixed with human stem cells and implanted in mice for 10 weeks. The results showed that new bone formation was visible on the surface of the CHACC.
In a preliminary clinical study, 16 patients with a range of four different bone defects were surgically implanted with CHACC.
Results showed there was clinical bone healing four months after surgery and the majority of the implanted CHACC degraded after 18 to 24 months in each patient.