Red Lady of Paviland bones 'should come home' to Wales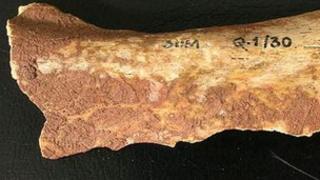 A 33,000-year-old skeleton believed to have been the earliest formal burial in Western Europe should be returned to Wales, an assembly member has said.
The Red Lady of Paviland in Gower was originally discovered in 1823 and local AM Byron Davies wants it brought back.
The Red Lady (who was really male) has been held in a collection at Oxford University since it was found.
Mr Davies has had the go-ahead from the UK government to put together a formal bid to repatriate the ancient remains.
However, Oxford University said it had received no formal request, so the question of whether the Red Lady should be returned to Wales was not under consideration.
"It's something which has been on my mind for a long time now," Mr Davies said.
"As a child I used to go down to the cave where it was discovered, and have always believed it's something intrinsically Welsh which needs to be back home.
"With the City of Culture bid focusing everyone's minds in and around Swansea for the last year or so, it didn't seem the right time to champion it.
"But last week I met [UK culture secretary) Maria Miller, who said that if I was prepared to put together a proposal, then she thought it would be a good idea for all sorts of reasons."
Jewellery
The skeleton of the Red Lady was discovered at Goat's Hole Cave at Paviland on Gower in 1823 by William Buckland, then a geology professor at Oxford University.
It owes its name to the red ochre covering the bones.
It was originally thought to have been female owing to the amount of jewellery discovered with it, including ivory wands, bracelets and periwinkle shells.
That was not the only false assumption made by Professor Buckland, who also contended that the skeleton dated to the Roman occupation just under 2,000 years ago.
In fact it is 15 or 16 times older; with scientists having recently raised the estimated age from 29,000 years to 33,000 thanks to the latest carbon dating technology.
This pushes the Red Lady before what is commonly referred to as the last Ice Age, and has forced scientists to rethink what encouraged people to migrate further west.
Mr Davies was keen to thank Oxford University for the advances in understanding of the Red Lady, and pointed out that he did not necessarily want to pick a fight with them.
"For a long time Oxford University was entirely the right place for The Red Lady. The context in which they've been able to place his life is half the charm of the entire story, and I don't think there's anyone who isn't extremely grateful for the research they've put in over the years.
"But now that phase is over, and The Red Lady needs to be on view to its own public back in Wales, not hidden away hundreds of miles from home under lock and key.
"Obviously Oxford aren't going to let something so precious go on a whim, so it's now up to me, and all the other interested parties, to put together a detailed proposal for how we could ensure its safety and market it to the max."
However, in a statement Oxford University offered a lukewarm response to Mr Davies's suggestion.
A spokesman said the skeleton was "held securely in a collections room inside the museum and is available for researchers and guided tours."
"Neither the museum nor the University of Oxford has been formally approached with a request to discuss repatriation of the 'Red Lady' material, so the question of whether the 'Red Lady' should be repatriated to a permanent home in Wales is not currently under consideration," he said.
"A cast is on display in the Oxford University Museum of Natural History. In 2014 the bones will be at London's Natural History Museum."