Charity shop fly-tipping warning after Ammanford dumping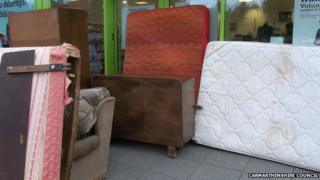 A man who left unwanted furniture including a wardrobe, TVs and bed outside a shut charity shop has landed himself a £1,000 court bill for fly-tipping.
Carmarthenshire council said the case in Ammanford, should serve as a warning.
So much stuff was dumped that staff could not open the shop and the furniture was ruined in the rain.
Barnardos had to pay to remove the items.
The council says similar incidents by others had already prompted some charity shops to put up signs warning that items will be considered fly-tipping if left after premises shut.
'Serious offence'
The council said Ronnie James Carroll, 47, admitted four offences under the Environmental Protection Act 1990 at Carmarthen Magistrates Court.
The authority says he was fined a total of £420 (£105 for each offence) as well as prosecution costs of £567.23, £60 in compensation to Barnardos and a £20 victim surcharge.
The council said the offences occurred in September and October of last year and so much furniture was left on a second occasion that staff found it difficult to open the shop.
The furniture was also ruined by the rain which meant it could not be sold and the charity then had to pay to get it removed.
Shop manager Susan Langford said at the time: "We are a charity and we are trying to raise money not waste it like this. People don't care; it is just an excuse for them to get rid of stuff they don't want."
Environmental health officers launched an investigation after the incident was reported by an eye witness.
The defendant told the court he had been unable to read the sign.
Councillor Jim Jones, executive board member for environmental and public protection said: "Fly-tipping is a serious offence and unfortunately this is an issue at charity shops across Carmarthenshire.
"People leave items outside the shops on the pavement when they are closed, probably with good intentions that it will be sold for charity, but it looks untidy and often the items are ruined by the weather.
"In this case, however, it was a lot more than just a couple of bags of clothes and I cannot believe that anyone would think this was the right thing to do, it is quite obvious that they just wanted to get rid.
"Hopefully this case will serve as a warning to others."