Unions demand public inquiry over blacklisting workers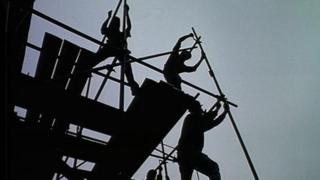 Trades unions in Wales want a public inquiry into blacklisting workers after an illegal list naming construction workers was found.
Unions will demonstrate in Cardiff Bay later over the discovery, which had more than than 3,000 UK names including 111 from Wales.
Companies who blacklist are banned from bidding for public contracts.
The practice was uncovered in 2009 when the Information Commissioner's Office raided the Consulting Association.
At an event in the Senedd, Wales TUC, along with UNITE, GMB and UCATT will ask politicians from all parties to back the TUC's demand for a full UK-wide public inquiry.
Most workers on the blacklist do not realise their names are featured.
'Unlawfully victimised'
Wales TUC vice president Sheila Bearcroft said thousands of workers had been "unlawfully victimised".
"We are delighted to mark the bold action taken by the Welsh government to ensure that companies guilty of this shameful practice are not able to win public contracts," she said.
"This is an important recognition of the urgent need to act against such a blatant and cruel injustice. Further action must now be taken at a UK level to win justice for workers whose livelihoods have been ruined by a brutal practice that has no place in any modern working environment."
Electrician George James, from Cardiff, discovered he was on a blacklist after working at a chemical works in the 1970s.
"I don't think I ever did get another job on a big site, I just had to find work where I could, do other things and muck in and earn some money for my family," he said.
Unite Wales Secretary Andy Richards added: "Going forward we are committed to working with the Welsh government and others to put this policy into practice in order to call time on blacklisting."