Swansea City star Garry Monk's home burgled while he had surgery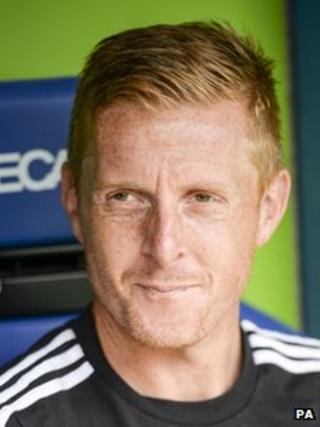 The home of veteran Swansea City player Garry Monk was "ransacked" in a burglary while he underwent knee surgery.
Items stolen included expensive watches and jewellery, mobile phones and a Swansea City kit bag bearing his name.
Swansea City FC said the defender was informed of the burglary as he came round from the anaesthetic.
South Wales Police said the incident happened on Gower Road and witnesses are asked to call 101.
Some of the items were of "great sentimental family" to former Swansea captain Monk and his family, said the force.
A back door was forced at his family home in Killay between 09:00 GMT on 15 November and 14:45 GMT on Monday.
A police spokesman said: "The burglary resulted in a large quantity of property being stolen from the home of Swansea City football player Garry Monk.
"Among the items stolen include high-value watches and jewellery, laptop computers and computer equipment, mobile phones and a Swansea City kit bag marked with the Number 16 and his name.
"The house was untidily searched from top to bottom. Ransacked basically."
'Devastated'
A Swansea City spokesman said: "Garry and his family are devastated.
"He has given everything to the club, the local community and the supporters for nearly a decade and doesn't deserve this.
"A lot of the items stolen were of great sentimental value and we would urge anyone who knows anything about the robbery to contact the police.''
Det Insp Darren George, of Swansea CID, added: "We are appealing to anyone who saw any visitors to the property on Friday or over the weekend or who saw or heard anything suspicious to come forward.
"The burglary has resulted in a significant amount of property being stolen, much of which is of great sentimental value to Garry and his family."
Monk - who captained the club in all four divisions since signing for the Swans in 2004 - has been ruled out for about six weeks and underwent minor surgery to remove loose cartilage and other bone fragments around his left knee.
The club's head physiotherapist, Kate Rees, said: "The arthroscopy [keyhole surgery] went well.
"The problem was down to general wear and tear and the cruciate ligament injury he suffered a number of years ago.
"We are expecting him to make a full recovery over the next six weeks.''
South Wales Police said anyone with information could call 101 or 0800 555111 quoting 62130363685