Otter sightings wanted for Pembrokeshire project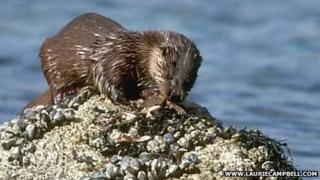 A project in Pembrokeshire wants to hear of any coastal sightings of otters to establish how the animals live.
Numbers are believed to be on the increase and more than 60 sightings have already been recorded.
Sea kayakers and surfers are amongst people who have seen otters at St Davids, Stackpole and Abermawr.
The project is a repeat of a 2002 survey to establish whether otters found on the coast are a separate population to those inland.
"Quite a lot of the reports so far have been from sea kayakers, surfers and people out coasteering," said Ian Meopham a Pembrokeshire Coast National Park ranger.
"Someone was even lucky enough to spot an otter with a guillemot (sea bird) in its mouth."
Anyone who has seen an otter can report sightings to Oriel y Park Gallery and Visitor Centre in St Davids.
Pembrokeshire Marine Special Area of Conservation (SAC) officer Sue Burton said it is already known that otters are using the coastline for foraging and even breeding.
"What we want to know now is whether they are using it seasonally or whether the same otters are active on the coast all year.
"As well as new otter sightings, we are interested in sightings going back to 2002, especially sightings north of Newport, and east of Bosherston as we currently have few recorded sightings in these areas," she added.