Schoolboy, 17, saves two on first RNLI shift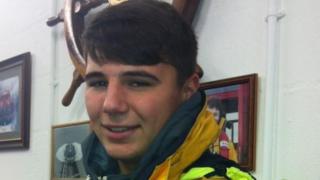 A schoolboy has become one of the youngest crew members of an RNLI lifeboat a day after his 17th birthday.
Sixth form pupil Josh Double was scrambled with the Mumbles crew in Swansea to rescue two French tourists cut off by the tide.
The RNLI said lifeboat volunteers had to be aged at least 17 to answer calls.
His father Martin Double is the full-time coxswain at the Mumbles station and Josh said he had always wanted to follow in his footsteps.
Josh celebrated his 17th birthday on the same day as the dedication of the station's new 16ft (5m) inflatable lifeboat Mark Lott.
One day later, the lifeboat was scrambled to the rescue of two French tourists cut off by the tide on the outer island, home to the Mumbles Lighthouse.
Josh under the careful instruction of deputy second RNLI coxswain James Bolter was first on hand to attend the call.
The pupil from Swansea's Olchfa Comprehensive School said: "Ever since I was little I used to watch my dad on the lifeboat and I always wanted be able to help others in distress.
"Dad is the coxswain of the Mumbles all-weather lifeboat so I think he was happy to see me joining the crew."
Mr Bolter said all at the Mumbles station were extremely proud of Josh and he had spent a lot of time there during the last few months and was eager to get out on the lifeboat.
"Our crew are all volunteers and come from all walks of life. We do tease him about coming down to the boathouse in his school uniform though," Mr Bolter added.