UK City of Culture 2017: Swansea makes final presentation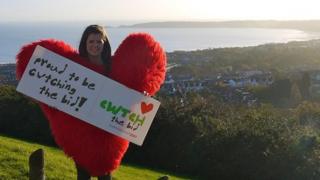 Swansea Bay has given its final presentation in the bid to become the 2017 UK City of Culture.
The Swansea Bay bid covers Swansea, Neath Port Talbot and Carmarthenshire areas.
It faces competition from Dundee, Hull and Leicester with the winner to be named on Wednesday.
All four bidders have been giving their presentations to an independent panel in Derry-Londonderry, which is the current City of Culture.
"The final presentation was one of the toughest things we've had to do for a very long time," said Swansea council leader David Phillips.
"It felt like a job interview at times and we were robustly challenged, but we gave robust answers and one of our team - the artist, Marc Rees was given a round of applause after he spoke.
"There may only have been six of us giving the final presentation, but it felt like thousands of people from across Swansea Bay were stood behind us in the room.
"I can assure the people of Swansea Bay that we've given it our best shot and it's a case now of keeping our fingers crossed for the final decision on Wednesday. We've done all we can."
UK Culture Secretary Maria Miller visited Swansea on Wednesday and said it had put forward a "very powerful bid".
Mrs Miller is not on the independent judging panel but will be announcing the winner.
"I think the people of Swansea are absolutely embracing the bid for the UK City of Culture and I do wish them every success in it because it's clearly a very powerful bid.
"There's a great deal of investment going on in the area at the moment and I think it will be a great thing for the city to achieve."
Swansea Bay boasts key culture figures from every generation but poet Dylan Thomas is the most famous of them all and is known locally as Swansea's most famous son.
A year of celebrations will take place in 2014 to mark the centenary of the poet's birth.
Other famous cultural figures from the Swansea Bay region include Hollywood stars Richard Burton, Sir Anthony Hopkins, Catherine Zeta Jones and comedian Rob Brydon.
'Way of life'
Actor Michael Sheen, composer Karl Jenkins, writer Russell T Davies, singer Bonnie Tyler and comedian Rhod Gilbert have backed Swansea Bay's bid.
"Culture for us here in Swansea Bay is the ordinary - it is our way of life, it defines us and we define it," said Sheen.
"Now is the time that Swansea Bay got its chance to shine and show the world what we're all about."
If Swansea Bay wins the City of Culture accolade, a Pete Ham festival for unsigned bands - named after the Swansea-born lead singer of Badfinger - and a high-tech history lab at the former Hafod Copperworks site could form part of the 2017 programme of events and activities.
Being City of Culture has brought Derry-Londonderry events like the Turner Prize, an outdoor theatrical extravaganza written by Frank Cottrell-Boyce - who worked on the London 2012 Olympics opening ceremony - and BBC Radio 1's Big Weekend.
But organisers faced financial difficulties when income from sponsorship and ticket sales failed to live up to expectations. The City of Culture does not receive direct funding from the UK government.