Hundreds of homes in Sandfields, Swansea, may be upgraded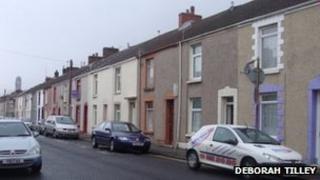 Hundreds of homes could be upgraded in Swansea as part of a multi-million pound project.
The deprived Sandfields area of the city has been recommended to become a renewal area - an area with housing, social and environmental problems.
Works would include external refurbishment of properties, insulation, repairs, boiler replacement and minor environmental improvements.
Hafod, in the east of the city, has had similar work done.
"Renewal areas don't just improve homes and the local environment, they also help revitalise entire communities," said Swansea council cabinet member June Burtonshaw.
"This is why it's enormously encouraging that an assessment carried out over the last 12 months is recommending the status for Sandfields.
"We're keen to do all we can to boost well-being and prosperity in our city's most deprived communities.
"If approved, this scheme will help meet those aspirations by improving the appearance of Sandfields, improving housing conditions and reducing fuel poverty to benefit local families."
Argyle Street, Bond Street, Fleet Street, Rodney Street, Vincent Street and Western Street could be upgraded as part of the scheme.
Residents and organisations in Sandfields are now being asked for their views on the plans before Swansea council considers the recommendation by the Neighbourhood Renewal Assessment Study.
Bids for funding for the scheme have been put in by the council to the Welsh government, utility companies and private investors.