Pocket ashtrays handed to Swansea smokers to stop littering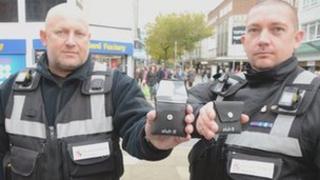 Smokers in Swansea are being given pocket ashtrays to stop them dropping butts in the street.
A litter enforcement team, which has issued more than 600 fixed penalties in its first month for a variety of litter offences, have been handing them out.
The "Stub It" pouches come with instructions and can hold up to five butts before needing to be emptied.
Swansea council spends more than £2m a year clearing up litter.
"A large majority of litter bins in Swansea, especially in the city centre, have a compartment to extinguish cigarettes so there is no excuse for throwing them on the floor," said council cabinet member June Burtonshaw.
"Residents have told us they want us to deal with litter bugs and clean up the city.
"Our latest enforcement plans are having a positive impact and we have had reports from our clean-up teams of less litter in busy public areas such as the city centre."