Minister faces legal challenge over Prince Philip Hospital shake-up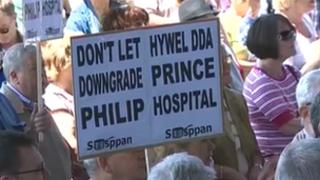 Health Minister Mark Drakeford faces a legal challenge over his decision to give the go-ahead to change the way urgent care is delivered at Llanelli's Prince Philip Hospital.
An application will be made for a judicial review of his decision to change its A&E department into a nurse-led unit supported by GPs.
Campaigners say the change could put patients in danger.
The Welsh government said it was aware of the proposed legal action.
Mr Drakeford took his decision on the future of the hospital department in September after the plan by Hywel Dda Health Board was referred to him by patient watchdog Hywel Dda Community Health Council.
That decision is being challenged amid claims it did not set out clearly how the new urgent care unit in Llanelli would be staffed - in particular, what the role of GPs would be.
A separate judicial review of the original decision of the health board was due to take place this week.
It has been postponed while the legal challenge against the Welsh government is considered.
Health board managers have insisted an overhaul of services is necessary to meet the challenges of an ageing population, retain and recruit medical expertise, and to cope with financial pressures on the NHS.