Measles outbreak: 39 reported cases in Neath Swansea outbreak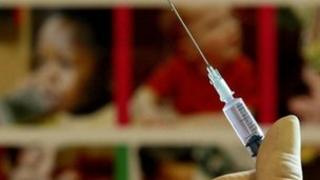 Parents in an area hit by a measles outbreak have been urged not to send children to school if they show symptoms of the disease.
It comes as three more cases were reported in the Neath and Swansea area bringing the total number to 39.
The first cases were reported in October - four months after the end of Wales' largest outbreak which also centred on the same area.
Four schools in the area are affected in the current outbreak.
Public Health Wales said some cases occurred after unwell pupils went to school.
The new cases were reported a day after PHW and three local health boards, including the currently affected Abertawe Bro Morgannwg University Health Board, published their report into the previous outbreak which saw over 1,200 reported cases.
The report recommended "aggressive" control measures, including invoking public health law to keep children who have not received the MMR vaccine and are close contacts of infected children away from school and other children's centres.
It also said that with large numbers of young people across Wales still not having two doses of the MMR, the potential for another large outbreak remained.
Dr Jorg Hoffman, consultant in communicable disease control for PHW, said: "It is very concerning that this outbreak is continuing to spread.
"This is a potentially nasty infection that can easily be prevented with a safe, effective vaccine and we would not see measles in Wales if enough children and young people were vaccinated."
Hospital cases
The Swansea area epidemic lasted eight months with suspected cases first reported in November 2012.
By the time the outbreak was declared over in July, it had resulted in 1,219 notifications of measles cases in the Abertawe Bro Morgannwg, Hywel Dda and Powys health board areas.
Some 88 people visited a hospital due to measles during the outbreak and more than 75,000 were vaccinated throughout Wales.
Gareth Colfer-Williams, 25, from Swansea, died from pneumonia after contracting the virus at the height of the epidemic.
The symptoms of measles include a fever, fatigue, runny nose, conjunctivitis and a distinctive red rash.