Fears over plans to poison fish in Enfield brook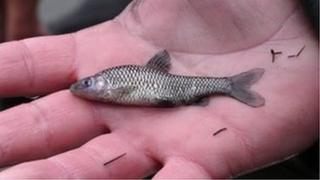 Plans to eradicate a non-native species of fish by poisoning a north London brook have led to residents voicing concerns the move is an "experiment".
The Environment Agency will use a substance called rotenone to kill the Asian topmouth gudgeon in Cuffley Brook, Enfield.
But the poison will also kill every other fish along the stretch.
The agency said mammals and birds would be unaffected and vowed to restock the brook with native fish if necessary.
Eels fears
One resident, Jill Simpson, said she had been told it was the first time "they've used it in running water so we're an experiment".
"We're worried about the eels that the Environment Agency were very pleased to get back in the brook, so is this the right thing to do?"
The work to eradicate the topmouth gudgeon, considered to be one of the most damaging non-native fish in Western Europe, is scheduled to start on 18 November.
The native species in the brook that will also die include roach, eel, minnow, stickleback and stone loach.
The Environment Agency said: "The piscicide contains rotenone, which is selective to fish so mammals and birds that eat it will not be affected.
"Once the topmouth gudgeon have been removed we will ensure that the area is restocked with native fish, if required."
The RSPB said the course of action was "not ideal" but "unavoidable".
Spokesman Tim Webb said: "Rather than it have an impact and lose all our native species it's best to remove this threat.
"We're not sure what the [future] impact will be at the moment and we'll be doing all we can to restore that habitat."