Target MMR at teenagers, measles report urges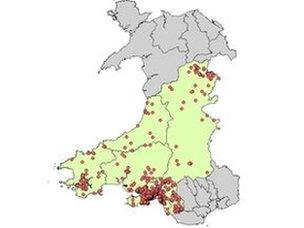 "Assertive" efforts need to be made to target teenagers who have not received the MMR vaccination in a bid to eliminate measles from Wales.
One idea is for unimmunised children to be excluded from school if a close contact has measles during an outbreak.
One man died and over 1,200 people were affected in the Swansea-based epidemic.
It had started a year ago when four children returned with measles from a holiday camp in south-west England.
The report comes as a new outbreak is affecting the Swansea and Neath area, with 36 reported cases so far since the start of October.
One senior public health doctor has voiced his frustration with a second outbreak occurring only months after the last one was declared over.
The report has been jointly produced by Public Health Wales (PHW) and the three boards affected by the outbreak, Abertawe Bro Morgannwg University Health Board, Hywel Dda, and Powys teaching health board.
It found there was far more public support for vaccination following the outbreak.
Uptake among five-year-olds is now at 92.8%, the highest since the MMR was introduced.
At the launch of the report, Dr Marion Lyons, director of health protection for PHW, said head teachers were key to school vaccination campaigns.
Questioned about compulsory vaccination, she said as confidence in the MMR was good, it would be better to concentrate on why some children were not vaccinated, and look at the issue of children giving consent.
Among the 16 recommendations, the report said unimmunised close contacts of any probable cases of measles in outbreak cases should be excluded from school and other child centred social settings until the infectious period was over, backed up with a formal request under public health law if necessary.
Schools should start immunisation sessions within two days of a case occurring if vaccination levels are low.
Where teenagers are involved, it said social media and other communication channels should be used to target them directly, and backed up by easy access to MMR injections including at outreach clinics.
It also suggested giving the MMR at places like sexual health clinics.
The report revealed testing by PHW found there were four strains of the disease circulating, meaning there were four separate outbreaks happening simultaneously.
It recommended the Welsh government should commission a review looking at the issue of teenagers not being immunised, reviewing scientific evidence of what works and identifying areas for further research if needed.
Swansea and the surrounding region had a lower level of immunisation among 10-18-year-olds prior to the outbreak.
This was attributed to parental fears at the time the children were the age when MMR is usually given following reports of now discredited links between the vaccine and autism.
There were over 50,000 children in this age group unvaccinated across Wales, and only 21,493 came forward for the jab.
The epidemic, which ran from November 2012 to June this year, saw 88 people admitted to hospital.
Gareth Colfer-Williams, 25, from Swansea, died of pneumonia after contracting the measles virus.
Dr Lyons said: "The report into the outbreak shows how four cases of measles contracted by children from Wales visiting a holiday camp in England became more than 1,200 cases in the space of eight months.
"The only guarantee against catching measles is receiving the full two doses of the MMR vaccine, and while we have 30,000 children and young people still needing vaccination, we can't assume we will not see further outbreaks of this scale.
"With 88 people being admitted to hospital and one dying during this outbreak, it's clear that measles is a serious illness and no parent or young person should believe it cannot happen to them."
Dr Sara Hayes, director of public health for ABMU, urged young people who had not been vaccinated to come forward and contact their doctor.
She added the outbreak centred around Neath "shows that, despite the large outbreak being over, measles is still a very real problem in Wales".
Related Internet Links
The BBC is not responsible for the content of external sites.