Measles cases in Swansea and Neath prompt 'frustration'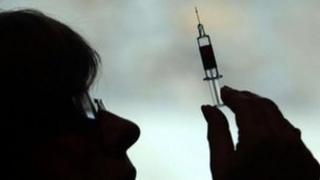 A senior doctor has spoken of his frustration with a second crop of measles cases in south Wales just months after an epidemic ended.
Dr Jorg Hoffman from Public Health Wales spoke as a report into the eight-month outbreak is due to be released.
From November to June there were over 1,200 reported cases in south, west and mid Wales, including one death.
The MMR vaccine dipped sharply around Swansea after a now discredited report in the late 1990s linking it to autism.
Over the last few weeks, a new outbreak at a Neath school last month has led to 36 suspected cases.
Updated figures for the latest outbreak are due to be published on Tuesday.
Dr Hoffmann, consultant in communicable disease control at Public Health Wales (PHW), said the new outbreak was a result of the virus being re-imported into the Swansea area from outside Wales.
He told BBC News that cases were now being reported on a daily basis.
"It's very frustrating," he said.
"Numerous times we wrote to every GP, to schools, and said 'we're still seeing measles, you must check your child's vaccination status' and get them vaccinated if uncertain or if they know they have not had it."
Two doses
Dr Hoffmann said there had been 35,000 extra vaccinations in the Abertawe Bro Morgannwg (ABM) University Health Board area during the last outbreak but, he added, there were still children unprotected in the 10-18 age group who did not have their MMR jabs as toddlers.
Dr Hoffman stressed that of those who had only had one dose, 10% would remain vulnerable to measles.
And he said people who had had the first jab during the outbreak had sometimes not come back for the second.
"I think it's human nature that once the threat is gone they move on," he added.
As yet, scientists have not been able to establish where the first case of the current outbreak came from.
Last year's outbreak was traced to a holiday camp in England.
"The virus is endemic in England, Europe and other parts of the world and some people will bring it back from there," said Dr Hoffman.
He explained that with 30,000 10-18-year-olds across Wales still unprotected, there was potential for the number of measles cases to rise, although he said this was likely to grow to the size of the previous outbreak.
Parents of those affected have been advised to stay away from children's centres and sporting events while their children were infectious.
'Heads in the sand'
Dr Ian Millington, a Swansea GP for 40 years and secretary of the local medical committee representing doctors to the health board, described the new outbreak was "very worrying".
He was concerned that many people were still resistant to the vaccination message.
"I think some is complacency, some ignorance and some is 'it isn't in my face'," he said.
"We're getting into a hard core of people who don't believe in vaccinations or are burying their heads in the sand."
Dr Millington thought appealing directly to the teenagers who issed out on vaccinations because of their parents' view could work.
"This is another way forward in the hope that they will see they are exposed to a high risk of a nasty disease."