Dylan Thomas Prize contenders wait for winner's naming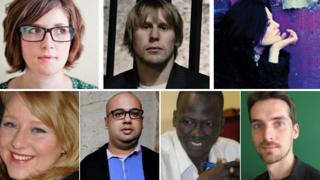 The winner of one of the world's richest literary competitions, the Dylan Thomas Prize, is announced later.
Seven writers are vying for the £30,000 prize for new works, which was established in 2006.
The works being considered include three novels, two books of poetry and two short story collections.
The award winner will be named in a ceremony at the National Waterfront Museum in Dylan Thomas's home city of Swansea on Thursday evening.
This year's shortlist sees writers from Australia, India, the United States, England and Wales in the running for the prize for their debut publications.
Jemma King is the Welsh hopeful, with her poetry collection called The Shape of a Forest. She teaches literature and creative writing at Aberystwyth University.
While the very first winner of the Dylan Thomas Prize in 2006 was also Welsh - Rhondda-born author Rachel Tresize - it is no indication of this year's outcome.
'Accomplished books'
The prize in 2012 was taken by Californian author Maggie Shipstead, while Belfast-born novelist Lucy Caldwell won in 2011.
Originally a bi-annual prize, it became an annual award in 2010, and still remains one of the largest literary cash prizes awarded in the world.
The prize fund is raised through a not-for-profit company, which is also a registered charity, relying on sponsorship and donations.
Swansea University was named as the prize's new sponsor for 2013.
Cultural historian Peter Stead, who chairs the competition and is one of the judges, said: "The seven books on this year's shortlist indicate the truly international scope of the Dylan Thomas Prize.
"These are amazingly and accomplished books by writers who are all under 30 and who will be coming to Swansea to speak to aspiring young writers and to hear the judging panel's choice of winner."
This year's judging panel is chaired by Hay Festival founder Peter Florence and also includes musician and broadcaster Cerys Matthews, former arts minister Kim Howells, Daily Telegraph columnist Allison Pearson, Guardian Review journalist Nicholas Wroe, Welsh journalist and broadcaster Carolyn Hitt, and Kurt Heinzelman, a poet and English professor at the University of Texas.
This year's ceremony comes as preparations are finalised for celebrations throughout 2014 to mark the centenary of the birth of Dylan Thomas in Swansea.