Emergency flood work on two Pembrokeshire beaches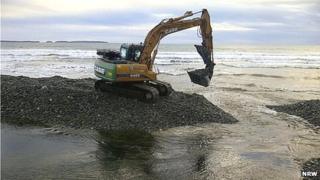 Emergency work is under way on two Pembrokeshire beaches after storms left water channels blocked by shale and sand.
Teams from Natural Resources Wales (NRW) need to move 3,000 tonnes of debris at Amroth and Newgale.
Without action, there are fears that water levels could rise in the Trelissey Stream at Amroth and at Brandy Brook, Newgale.
Flooding could then affect homes and a caravan park in the area.
"After severe weather we saw over the weekend, it is vital to make sure that any blockages or obstructions are cleared as soon as possible," said Neil Davies from NRW.
Weekend storms
"We were on standby over the weekend, checking our flood defences and responding to any issues with our assets, and now we are making sure that any damage to them is fixed."
The storms at the weekend saw parts of Wales battered by gale force winds gusting at up to 89mph (143kph).
The winds brought down trees and power lines, leaving 10,000 homes without power across south and west Wales.
NRW said the work on the two Pembrokeshire beaches was especially important as the unsettled weather continued.
Officials also urged anyone who spotted blocked or damaged watercourses and culverts to call the agency on its hotline so the issues could be fixed before more serious problems arose.
NRW can be contacted on 0800 807060.