Morfa Beach steelworks footpath row goes to inquiry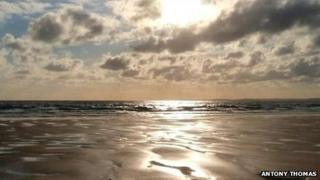 Plans to close a path, thought to have been used by beach-goers since the 1800s, because it is near to where lorries access a steelworks have gone to an inquiry.
The path is on land leased by Tata steelworks and lead toward Morfa Beach which is only accessible by foot.
But land owners Neath Port Talbot say walkers using the path come into close contact with lorries.
It wants to close one path and divert another but there have been objections.
Local protest group Save Morfa Beach and conservation organisation the Open Spaces Society are among those against the plans.
The group says that paths have been used for many years by the public to access the beach, also known as Margam Sands.
The beach, which is in private ownership, stretches from the deep harbour at the eastern end of Aberavon sands to the mouth of the Kenfig River.
But the council says the paths do not reach the beach and it means walkers are in danger from on-site lorries.
It wants to close footpath 92 in Longland's Lane in Margam - which is regarded locally as a direct route to the beach - and divert footpath 93 which leads from Kenfig Nature Reserve.
A four day public inquiry into the matter is due to be held at The Orangery at Margam Park, which will also look into the creation order of a new footpath which would form part of the Wales Coastal Path which would connect with Bridgend via a new bridge that will span the River Kenfig.
"We believe that given a fair hearing our evidence against these path changes will win the day," said Charles Smith, chairman of Save Morfa Beach.
Meanwhile, Port Talbot councillor Rob Jones had to obtain special dispensation to join the protest since he became chairman of the council's planning committee.
"Morfa beach is not only very picturesque in relation to its outlook and the vista that it provides across the bay but it is historically important," he said.
"The D-Day Normandy landings were practised here.
"There are tanks in the sand, there are wrecks in the sand. It has a wonderful history."