Swansea heart surgeon wins award for 95p invention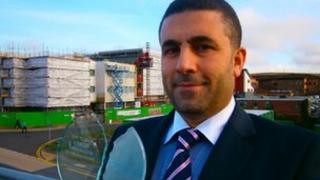 A heart surgeon at a Swansea hospital has won an award for an invention that cost him 95p to create.
Morriston hospital doctor Abdullrazak Hossien made his surgery training simulator out of a sweet tin.
The portable device can be used anywhere and is now being manufactured for use around the world.
It is used in training for surgery of the aortic root, which carries blood from the left side of the heart to the arteries of the limbs and organs.
Dr Hossien created his training device for a competition run as part of the European Association for Cardiothoracic Surgery (EACTS) Conference 2013 in Vienna.
He said: "Thomas Edison said that to invent you need a good imagination and a pile of junk.
"I designed a portable trainer, which you can keep in your pocket. You can practise on the train, on an aeroplane, at home, wherever you are.
"I developed it from a sweet tin that can be fixed to a table, and created an aorta using synthetic material. It cost me around 95p.
"I accompanied this simulator with a multimedia DVD [with] guidelines that trainees can apply to any procedure on the aortic root. They can progress from the simplest procedure to the most complex as they develop."
Dr Hossien said trainees using the simulator would be completely familiar with the procedures by the time they came to carry out supervised aortic root surgery on patients.
He added: "They will have mastered the procedure before they operate on the patient."
Garage workshop
Dr Hossien said that at the same time "qualified surgeons and any doctor with an interest in the specialty can improve their skills".
For the EACTS award, candidates were challenged to create a low-tech training simulator for aortic root surgery.
These were judged by a panel of eight top surgeons from Europe and the USA.
Dr Hossien was eventually declared joint winner along with a candidate from Italy.
His simulator will be manufactured for worldwide use by award sponsor Ethicon, which develops innovative surgical products.
Dr Hossien turned the garage of his Swansea home into a workshop to develop the aortic root simulator.
"I spent six or seven months on it. I would forget to eat and to drink sometimes because I was thinking about it so much.
"I would like to thank my wife and daughter who supported me and gave me the time I needed to develop this."
He is donating his share of the 3,000 euro (£2,600) first prize from the EACTS award to the Syrian humanitarian relief appeal.
Dr Hossien is senior clinical research fellow in the cardiothoracic department at Morriston Hospital.
Mr Saeed Ashraf, consultant cardiothoracic surgeon and honorary senior lecturer at Swansea University said: "Dr Hossien is a very talented academic surgeon with an excellent pair of surgical hands."