Administrators for Unity mine say it needs 'right investment'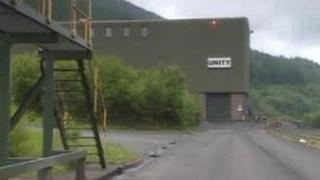 Administrators have been appointed at Wales' largest mine after the owners said they did not have enough work for all staff.
Unity Mine, a drift mine near Neath, announced they were filing for administration three weeks ago.
Administrators Cork Gully LLP said with the right investment the mine "will be able to secure long-term viability".
Unity had said there was only work for 66 of its 220 staff but that the workforce was being kept on "for now".
Andy Beckingham, joint administrator, said: "Unity Mine is the largest drift mine in Wales. It has substantial deposits of high ranking anthracite coal and is also positioned to exploit the coking coal deposits at the nearby Ocean field.
"With the right investment the mine will be able to secure long term viability.
"We are actively looking to speak with potential investors and will be working closely with the directors, suppliers and employees to ensure that the business has the best opportunity to achieve its full potential."
The mine is subject to a care and maintenance programme to ensure required safety standards are met.
Share shifts
Business Minister Edwina Hart had said the firm was being offered assistance.
But she said there were wider financial pressures and challenges which had led to the company going into administration.
Wayne Thomas from the National Union of Mineworkers (NUM) previously said he believed there was a future for the mine, and that there was between 10 and 20 years of work left in the mine.
In recent months, the miners were told there was not enough work for everyone.
Staff offered to share shifts between all of the workers which meant they got on average a quarter of their previous pay.
It was seen as a way of safeguarding the pit's future, but it is understood some workers have had to leave their jobs and taken up posts as far as way as Kent and Manchester.
The vast majority work was at two pits in the Neath Valley at Unity and Aberpergwm which is currently closed.
Unity Mine opened in 2007 with reserves of up to 90 million tonnes of coal.
It is a drift mine, which means that miners can walk into it from the surface rather than having to be transported down to the coal seams via a lift in a shaft.