Llandeilo Chinese luxury tourist village shelved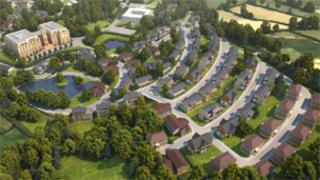 A Chinese company's plans for a £50m luxury tourist village in Carmarthenshire have been shelved.
Maxhard Ltd wanted to build a 100-bed hotel and 80 holiday homes with a swimming pool on a 22-acre (9 hectares) site near Llandeilo aimed at "a select international clientele".
It expected to attract 20,000 visitors a year, but was criticised for its "inappropriate" design.
A smaller scheme is being considered but no decision has been made.
The developers said they intended to submit revised plans in June of this year, but the scheme's architect Julian Castle told BBC Wales they are no further forward and no revised plans had been submitted.
He added the project could "possibly" go ahead or it "possibly won't".
"At present the plan is on hold and due to the financial climate it's difficult to say whether or not it will be completed."
'Tranquil' retreat
The Llandeilo plan, which included 10 shops and a car park, aimed to create up to 70 full-time jobs.
Maxhard, which has offices in London and China, said it would have been a "luxurious development for a select international clientele looking to enjoy a tranquil Welsh retreat".
It would have been on the doorstep of Pantglas Hall, where a separate resort offers timeshare log cabins, a restaurant and leisure facilities.
Managers of the neighbouring Pantglas Owners' Club had concerns about the scale of the tourist village.
Eifion Bowen, head of planning at Carmarthenshire council, said there had been discussions to amend the design.
"While the application has been withdrawn, the authority is available at any time to discuss a revised application," he said.
A Welsh government spokesperson added: "We had been in discussions with the developer and were awaiting full details of their scheme, which would be subject to usual planning consents."