Haverfordwest castle village green bid goes to public hearing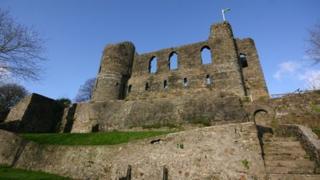 A row over the future of the grounds of an 11th Century castle is due to be settled at a public hearing.
Campaigners want to keep Haverfordwest castle grounds open to the public by securing village green status.
That would stop the site being used for private redevelopment, such as recent interest in setting up a hotel.
Haverfordwest Town Council is behind the application but Pembrokeshire County Council said the plan was flawed and wants to sell off the land.
"We feel it is in the best interests of our town to retain its heritage by having the castle left open for public use," said Haverfordwest town councillor Peter Lewis.
"It's just one of these places where people feel they should be able to walk at any time.
"Haverfordwest castle is what the town has been built around - it is fundamental, it is our iconic building, it pervades everything.
"If you look at all of our sports clubs, they carry the castle motif. Everyone sees that as the central feature of our town."
The site is owned by Pembrokeshire council and only a few of the original stone walls remain of the 11th Century castle.
For decades the public has enjoyed open access. The town museum is housed there and the site is used by people to walk their dogs, eat lunch in fine weather and watch occasional events on the grass.
In 2010, Pembrokeshire council announced that it was putting part of the castle site - an old Victorian prison building which for years had been home to the county records office - up for sale.
Prison building
Last year, an architect and developer showed an interest in turning it into an eight to 16-bedroom boutique hotel and restaurant, but it proved controversial.
Some time later the developer walked away.
The town council decided then that the only way to protect the site for good was to apply for village green status.
It has also put in an offer to buy the Victorian prison building for £50,000.
Pembrokeshire council said the castle grounds had been declared a public open space in 2009 and the town council had the chance to challenge it but failed to do so.
It argues the standing as a public open space means public events in the castle grounds can be organised and managed effectively with the granting of the appropriate licences.
Deputy leader Huw George said village green status would change forever what could be done with the site.
"It will make it very difficult to regulate who uses it and when they use it and that causes us a great concern," he said.
"Our greatest concern is the objection [against development] they've put in, which is by nature flawed.
"The objection I believe should've come in 2009 when it was declared a public open space. We're now in 2013, which seems to me a little bit flawed."
He added: "By turning it into a village green we curtail many options which may harm the development economically and with tourism in the future, and I think Haverfordwest deserves to have all opportunities left open."
Both sides are being represented by a solicitor, and the public hearing will be presided over by the Planning Inspectorate.
The hearing, which starts on Wednesday, has been described by the county council as an "unnecessary application" and said it was costing a "great deal of public money at a time when every penny counts".
But Mr Lewis said the action was necessary.
"It's going to cost us well over £10,000 and it's going to cost the county council more than that to defend it but we feel we've got no choice," he said.