Swansea traveller sites in Cockett and Llansamlet rejected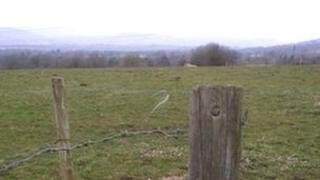 The search for a second permanent Gypsies and travellers' site in Swansea looks set to be widened across the city after councillors threw out the recommended options.
Following a consultation, a report said the new site should be on council-owned land either in Cockett or Llansamlet.
But after councillors debated the sites and three other locations that were considered, they voted to start again.
Using private land and expanding the existing Llansamlet site are options.
"I personally feel we should have been looking at an all-wider Swansea basis for the land," said Labour councillor Robert Francis-Davies, who proposed a new recommendation to ask cabinet to widen the search.
"We should adopt a whole Swansea approach and consider all land options."
Councillors voted unanimously to back the amendment and it is now up to cabinet to make the final decision.
Five possible sites had been under consideration, including two in Gorseinon with the others in Penderry ward, Cockett and Llansamlet.
During the meeting, representatives from all five sites and members of the traveller community gave their views on the proposals.
Illegal settlements
The travellers said they wanted a second site in Llansamlet and were open to expanding the current site, but the council was warned that it was unlikely as it is on a flood plain.
David Phillips, leader of Labour-led Swansea council, warned in advance of the meeting that issue was going to be "divisive".
Swansea council said the Welsh government had insisted all local authorities in Wales look at the needs of Gypsies and travellers "as part of its assessment of accommodation needs".
Residents had until 31 March to give their views and a number of campaigns have been launched in opposition to proposals for particular areas.
A council spokesperson said: "The latest proposal is that we look at more sites within Swansea to see if there is somewhere suitable for a Gypsy and traveller site.
"Our latest housing accommodation needs assessment shows there is a need to develop a second site in the city.
"A number of families are residing in Swansea on unlawful and illegal sites and one of the ways to tackle this issue is to ensure they have a legal site for their homes."