Llangyndeyrn community marks reservoir fight win 50 years on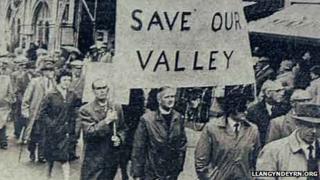 Residents of a small Carmarthenshire community are marking 50 years since their village was saved from being turned into a reservoir.
Residents living in Llangyndeyrn in the Gwendraeth Valley found out about Swansea Water Corporation's plans in a newspaper article on 16 March, 1960.
A three-year legal battle - and a week-long stand-off - ensued, which eventually proved successful.
And now the event is being commemorated with a gala dinner and concert.
Arwyn Richards, 80, was one of those who helped man the barricades when surveyors accompanied by Swansea's bailiffs attempted to move in on 21 October, 1963.
"I was a man in the prime of my life, but there were also babes-in-arms and people so old that they could hardly make it up the hill to the farm," he said.
"That's how much the entire community was behind this. We even drew up a rota of people who were prepared to go to prison if necessary.
"If you were the only breadwinner in a family then you weren't expected to get yourself arrested, but anyone who could afford to said they'd do whatever it took to stop the diggers getting in."
But Mr Richards explained that despite a week-long stand-off, it never reached the point of anyone actually being arrested.
He said: "We tried to do everything properly - we'd taken them to court and had a public inquiry but when all that failed we had to do whatever it took.
"There were tractors and combine harvesters and chains and fences to stop them, and if they'd have made it past them then they'd still have had to get through 100 or so of us.
Alternative site
"In the end this man shook his fist at us and said he'd be back, but they never were."
Faced by mounting public opinion, Swansea Corporation instead opted for an alternative site at nearby Llyn Brianne.
While it required more engineering and has a smaller capacity, it meant the destruction of just one derelict farmhouse, as opposed to chapels, homes and 600 acres of fertile farmland in Llangyndeyrn.
David Thomas, whose grandfather William was head of Gwendraeth Rural District Council throughout the period, is co-chair of the anniversary celebrations.
"The obvious comparison to make is with the drowning of Capel Celyn to form the Tryweryn reservoir to provide water for Liverpool," he said. "And whilst there are similarities, there were key differences too.
"My grandfather and the local minister WM Rees were determined to succeed but equally determined that it shouldn't become political.
"The advantage we had was that there wasn't the nationalist element of England doing this to Wales - we were doing it to each other."
He added: "Not even the people of Swansea wanted this, they campaigned against it almost as hard as we did," he added.
"That's why people here always make a distinction between the residents of Swansea and their council."
Mr Thomas said that in the intervening 50 years, Swansea council had never said sorry.
'Feared the worst'
"I don't know if an apology would make any difference now, it's been so long and all the people have changed, but yes, I think it would be a nice gesture at least," he said.
But he also thinks Llangyndeyrn has ultimately benefited from the saga.
He said: "I suppose it's easy for me to say now - I was only a toddler at the time - but yes, I think ultimately it was the best thing that ever happened to Llangyndeyrn.
"Of course everyone feared the worst and nothing can make up for the worry of those three years, but on the day Swansea Corporation turned-tail and ran, our village was reborn.
"You only have to look at the youngsters who've got involved with the celebrations.
"If this had been allowed to happen then our community would have been scattered to the winds and half of them would never have been born.
"But as it is, at a time when rural societies all over Wales are breaking down, ours is going from strength to strength."