Primary school domestic abuse lessons pilot may be rolled out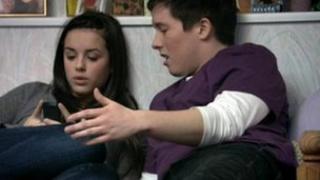 Children as young as 10 have been taught about domestic violence in a pilot scheme which could now be rolled out across Wales.
Two Carmarthenshire primary schools took part in the six week pilot aimed at recognising danger signs in relationships.
Hafan Cymru's project had only been used in secondary schools before.
The charity said it was so successful the aim was to use it right across Wales.
In the pilot, six sessions for 10 and 11 year olds were delivered in the two participating schools and one for parents and training for staff.
Gaynor Jones, schools resource officer for Hafan Cymru, said it was the first scheme in Wales they knew of that has been delivered to children across Years 5 and 6.
"They've [the pupils] been absolutely brilliant, they've been really open, they've learnt a lot of new ideas," she added.
"They've learnt a lot of new vocabulary and I think it's really important that we get that vocabulary out into the public domain.
'Absolutely vital'
"We're hearing they're discussing it with parents at home as well and that's great, we want those messages to be carried home."
Last year a third of Hafan Cymru's service users were aged 16-24, and the organisation feels that preventative work in schools is key to ending domestic abuse in communities.
But Ms Jones admits funding is the issue that could prevent the scheme being rolled out wider.
And she is hoping that the Welsh government's White Paper about ending violence against women becomes law and will be followed up with funding which is "absolutely vital".
"We know that teenagers are getting into abusive relationships younger and younger now," Ms Jones added.
Good relationships
"We're developing a peer education project with our service users in Hafan Cymru and one of those women we're working in entered her first abusive relationship when she was 13.
"So by the time children are in secondary school, it's not too late. We can still save some hopefully.
"But if we can get the message out younger, that's great."
Catrin Nicholas, assistant head teacher at Ysgol Llech y Fedach in Tumble, said she had initial concerns about how such a difficult subject could be dealt with but she said the content had been aimed properly at young children.
"Once the initial session was over I realised it was going to be all right because it focused on good relationships with others.
"It focused on the positive points of that rather than anything too scary or too frightening for pupils who are so young," she said.