267 Swansea litter fines handed out in first three weeks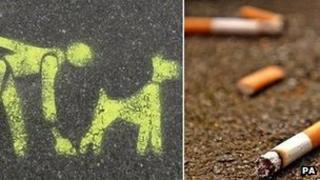 More than 260 people have been fined in three weeks as part of a new clampdown on dropping litter in Swansea.
A private firm has been brought in to hand out £75 fines as the council tries to cut a £3m annual clean-up bill.
Offences include dropping cigarette ends, chewing gum and food packaging on the ground along with dog fouling.
A separate clampdown launched last weekend on urinating in city centre streets instead of using open-air urinals saw 10 people fined.
"The public has complained to us about a variety of litter-related issues such as dog fouling and large amounts of cigarette ends being discarded," said council cabinet member June Burtonshaw.
"The public wants a clean city and we are committed to making sure that this happens.
"Anyone who has received a fixed penalty has done so because they chose not to use a bin when disposing of litter.
"We have only recently launched the initiative but I hope it is already having a positive effect in encouraging people to do the right thing."
A total of 267 fixed penalty notices were issued between 19 September and 12 October for litter and dog fouling.
Two extra litter collection teams have been recruited by the council as well as another enforcement officer.
And 60 more dog mess bins have also been installed in key areas of the city including the centre, Penderry and Townhill.
Denbighshire, Blaenau Gwent and Vale of Glamorgan councils also use private firms to tackle litter and dog fouling.
Meanwhile last weekend, revellers were warned they would receive £75 fines if they were caught urinating in streets and doorways instead of using open-air urinals in Swansea city centre.
The council started to provide portable urinals two years ago following complaints by local businesses.
The move was welcomed by many traders in Wind Street, which is popular with drinkers, but the problem has not gone away and 10 people were fined by police during the first weekend.