Mumbles Tamar: £2.7m lifeboat arrives at Swansea home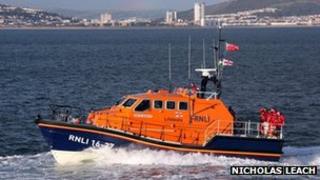 A new £2.7m lifeboat has arrived at its new Mumbles lifeboat station home in Swansea.
The Mumbles Tamar has the latest technology to improve its lifesaving capabilities and is bigger and faster than the boat it replaces.
It completes the roll out of four of the lifeboats which have all been paid for by the Roy Barker Memorial Fund.
It was set up after Frederick Roy Barker, of Jersey, bequeathed his estate to the RNLI in 1992.
He made his money in farming and livestock, was a keen seafarer in his leisure time and a supporter of the RNLI.
Funding for new lifeboats often come from legacies and the other vessels financed by that fund are already saving lives off the coasts of Alderney in the Channel Islands, Wick in Scotland and Howth in Ireland.
"Bringing the new lifeboat home to Swansea for the very first time will be an incredibly proud moment for me," said Mumbles RNLI coxswain Martin Double.
"This really is a fantastic boat and I have every confidence that she will serve us well and help us to save more lives off the south Wales coast."
Five crew from Mumbles have spent the week getting used to the Tamar and learning the new technology.
The boat has travelled through Brixham, Falmouth and Padstow, before arriving in Swansea and the crew have carried out training emergency drills.
It will be housed at a £9.5m purpose-built lifeboat station and slipway which is under construction.