Homes evacuated after Hakin, Pembrokeshire, house fire and 'explosion'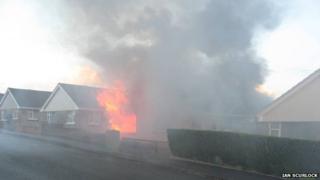 A woman has been taken to hospital after reports of an explosion and a fire at a house in Pembrokeshire.
The blaze led to the evacuation of several neighbouring properties in Hakin, near Milford Haven, on Monday.
One resident said the explosion at the house blew out a window but the female occupant was able to walk out before being taken to hospital.
Mid and West Wales Fire Service said it was believed the incident had been caused by gas.
Wales & West Utilities said a team of engineers at the scene were "working to isolate the gas supply and make the site safe".
It said investigations into the cause of the incident were ongoing.
Pembrokeshire council said those who had been forced to leave their homes had not returned yet as the work to isolate the gas supply continued, but they had found temporary accommodation elsewhere.
Two fire engines from Milford Haven, one from Pembroke Dock and a fourth from Haverfordwest were sent to the scene.
The alarm was raised shortly after 08:00 BST and the fire was put out by 11:00 BST. Crews remained at the scene damping down.
The fire service said the woman who lived at the property had not suffered life-threatening injuries but was in shock.
Neighbour Ian Scurlock described smelling gas when he took his dog for a walk.
"Coming back there was still a very strong smell of gas and I determined then I would phone the council up and let them know.
"It was just before 8am (and) I could hear a noise outside and I thought it was workmen starting work a bit earlier.
"When I opened the door and looked out I could see flames coming out of the window."