Thief fails to return test drive car at Skewen garage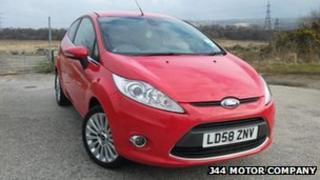 Police are searching for a thief who took a £6,500 car for a test drive and never returned it.
The man went to Junction 44 Motor Company in Skewen, near Swansea, and test drove a Mazda M2 before trying out a Ford Fiesta Titanium and disappearing with it.
The incident happened at about 14:10 BST on Tuesday.
Garage manager Ian Richards said the firm was "devastated" by what had happened.
"It's made us look like an easy target," he told BBC Wales.
"We are a long established business - the owner has been here 16 to 18 years and we have a good customer retention.
"This guy took us by surprise."
Mr Richards said the man, who was well dressed and well spoken, turned up at the garage on Peniel Green Road at lunchtime on Tuesday.
"He said his wife had been around here the previous evening and fancied two vehicles but had left it up to him to decide which one to buy," he said.
"He wanted an 09-plate Mazda 2 and a 58-plate Fiesta Titanium and he asked if he could have a test drive.
"We let him out in the Mazda and he came back after about 20 minutes and then he took the Fiesta and it was never seen again."
Mr Richards said the company was insured to allow people to test drive cars unaccompanied but would now change the policy.
South Wales Police have confirmed they are investigating the incident.
A spokesman said: "The vehicle was stolen from Junction 44 Motor Company on Peniel Green Road some time between 2.10pm and 3.50pm on Tuesday. It is a red Ford Fiesta LD58 ZNV.
"We would appeal to anyone with information about the incident - or anyone who knows the whereabouts of the vehicle - to call 101 or Crimestoppers anonymously on 0800 555 111."