Dylan Thomas centenary: Children to 'explore' poet's work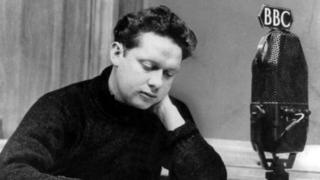 Thousands of school children are being given the chance to explore the work of poet Dylan Thomas as part of centenary celebrations.
Developing Dylan will see 2,000 sessions on the poet run in schools across Wales between now and next July.
The creative writing workshops are part of the Swansea-based Dylan Thomas 100 Festival, marking 100 years since his birth.
The project was launched at Fitzalan High School in Cardiff.
"Developing an interest in literature from an early age is an essential part of inspiring our young people to write and create their own stories," said the Welsh education minister Huw Lewis at the launch.
""Literacy is a skill needed throughout a person's life and it's extremely important we develop and refine this skill.
"It's for that reason, improving standards of literacy is at the heart of my raising standards and performance across the board here in Wales."
'Magical words'
The Welsh government and the UK's Department for Education and Skills are jointly funding the new project.
The workshops have been developed for children aged from seven to 16, and reflect the current demands of the national curriculum followed in Wales at Key Stages 2, 3 and 4.
Speaking at the launch of the project in Cardiff, Dylan Thomas's granddaughter, Hannah Ellis, said the workshops would help "captivate and delight children".
"They can experiment and play with language, discover how magical each and every word is, and sneak through the doors of the 'two storied houses', and learn about the secrets that lie beyond."
The Dylan Thomas 100 Festival is a year long event to mark the birth of the poet in Swansea in 1914.
The festival, for which Prince Charles is the royal patron, will see theatre, television and film performances, as well as exhibitions and workshops such as Developing Dylan.